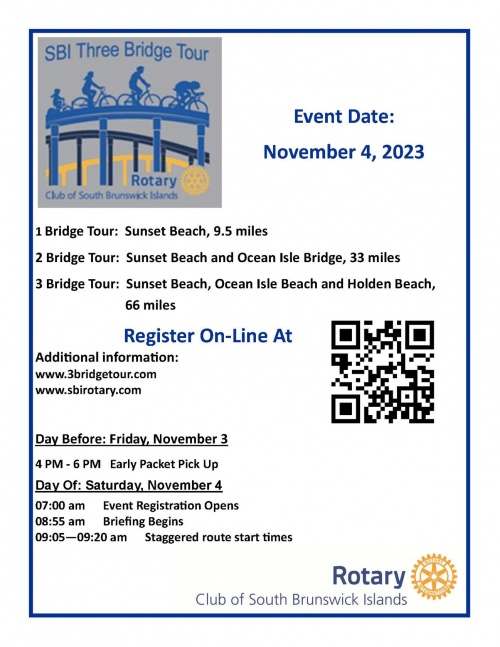 CLICK HERE FOR SPONSORSHIP FORM
Tucked in the southeast corner of the state between Wilmington, NC and Myrtle Beach, SC you find the South Brunswick Islands.

The South Brunswick Islands feature meandering waterways, miles of idyllic shoreline, an abundance of championship golf courses and a temperate climate. These features make our home a scenic paradise; an ideal retirement location and destination for relaxation.
Our area beaches - Holden, Ocean Isle Beach, and Sunset Beach - have all been recognized as some of the best beaches in the nation. We invite you to come experience the natural beauty and laid back lifestyle of the home so many of us have come to love.
The South Brunswick Islands Rotary Club's "SBI Three Bridge Tour" offers you a unique opportunity to traverse our county and cruise across the three featured bridges of Sunset Beach, Ocean Isle Beach, and Holden Beach. Select a ride that is family friendly or one that will challenge you; each promises to be memorable.
Proceeds from this event will be used to for local and international Rotary project with many projects providing experiences and learning opportunities that will enrich the lives of the children and youth in Brunswick County.
All riders will meet in the staging area adjacent to:

Ingram Planetarium
7625 High Market St.
Sunset Beach, NC 28468

All activities will start here and end here.


Friday, November 4, 2022
Early Packet Pick Up: 4-6 pm

Saturday, November 5, 2022
Check-In: 7:00 am
Welcome: 8:45 am
3 Bridge Route Begins: 9:05 am
2 Bridge Route Begins: 9:15 am
1 Bridge Route Begins: 9:20 am
The ride will take place in the rain, but lightning or a forecast for lightning or other dangerous weather will cancel the ride. The registration fee is NOT refundable if the ride is canceled due to safety reasons.